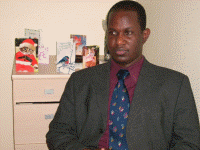 Dr. Claude Shema Rutagengwa holds a Doctorate degree in medicine, and has pursued many other post graduate courses in peace, environment and human rights (Rwanda, Burundi, DRC, Austria, Romania etc...) A Rwandese national Peace and human rights practitioner, he has worked with several peace and development/child-youth and women rights organizations in Africa as trainer-facilitator, consultant or in administration.
Dr. Claude Shema Rutagengwa is founder of GLPI (Great Lakes Peace Initiative) - African Regional network aiming at peace and sustainable development in many countries of Central an East Africa. He has published many articles and publications on peace, conflict issues and development ( www.author-me.com and peace poems at www.peacepoet.com ) and in World Peace journal - an international peace newsletter. Dr. Claude Shema Rutagengwa became a peace practitioner after the 1994 Rwanda genocide as a survivor of that tragedy. He felt very concerned about peace and conflict resolution issues, in a bid of tribute in synergy with others in preventing and transcending hostilities.
Hobbies:
Nature-flowers/gardens - animals - soft/slow music - travel - reading - walking on beach - evening walk and other relaxation exercises.
Enviable human quality:
Ubumuntu-Ubuntu and wisdom.
Idole professors
: Pr. Hizkias Assefa - Pr. Johan Galtung.
Person idole
: H.E.Nelson Mandela (former South African president)
-End of war/violence and poverty in the world.