Home | Fiction | Nonfiction | Novels | | Innisfree Poetry | Enskyment Journal |

International

| FACEBOOK | Poetry Scams | Stars & Squadrons | Newsletter

CONFESSIONS OF A WOULD-BE GARDENER

by

Diane Stark (McConnell) Sanfilippo

Click here if you'd like to exchange critiques

© 20036Diane Sanfilippo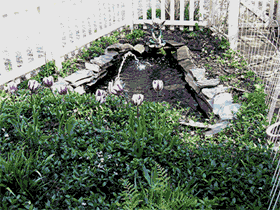 I almost flunked art in the first grade, because I would not put my hands in finger paints or work with clay. One of the most distasteful feelings that I knew was having anything under my fingernails so I avoided all forms of art that left residue there.
Before...
As an adult, I not only had few opportunities to have a garden since I was an Army wife and there was not much sense in planting flowers for the next person to enjoy. Of course that life-long quirk of not wanting any substance under my nails had also followed me throughout my life.
The first home we owned was an old farmhouse on a well planted acre, with producing fruit trees, shrubs older than I was laden with flowers in the spring and summer, so there was not much need in my planting anything else. Then my husband decided that a vegetable garden would be cost efficient and good exercise for our four children. Well the only person who got exercise from this garden was my husband since the children either had activities when they were not doing homework, and in the summer they bribed their grandmother to invite them to visit! So here we were, just the three of us, our youngest son was both too young to travel without us and too young to garden, and this huge garden that needed hours of weeding, picking, spraying and whatever, every single day! I skillfully managed to stay busy with housework and my evening job, and my husband never suggested we have another garden.
Our second house was new with hard baked red Virginia clay for a yard. There were also immense oak trees not twenty feet from the house and very little sun. My husband managed to plant some roses and a white lilac in the only place we had some morning sun, and they thrived. I coerced him into planting a border along the driveway using annuals but I was not about to get my fingernails dirty! Not me, besides I had a 'black thumb'! The backyard we lined with landscaping ties and filled with river rock, as it was too shady to grow even grass. At least the mud would no longer be tracked into the house.
As surely as the sun sets each evening, the day came that our house became too large, as one by one the children had left home. By then, due to multiple surgeries, I was no longer able to do much in the way of housework, so the burden fell on my husband. One night as we were discussing quite loudly the chronic dust in the house, we decided that we needed less house, and he wanted more land. Within a year, we moved to our present home, a small cape cod at the end of a one-half mile long driveway on twelve wooded acres.
We added a garage, identical to the house, but smaller, with a workshop and extra storage upstairs and had it attached to the side door with an open breezeway. Now, I could get into the car or bring groceries in the house without getting soaked when it rained. Our next big project was to turn the open deck into a screen porch where we could enjoy our newly found privacy without the incessant mosquitoes. At this point, we realized that there was nothing but mud between the house and the garage. There was nothing to do but add a large free form patio and we had it built right up between the two buildings to form a walkway. Now I could get from the house to my car without getting muddy or wet, and my husband would not track mud into the house when he came in from the workshop.
It was after our entire profit from selling the larger home was gone, plus more, that I saw this mud hole between the driveway and the sidewalk. What could we do with this mess? Surely no grass would grow in this boggy hole. Looking through a magazine one night, Southern Living I suppose since that was the closest thing to a gardening magazine I had ever read, I saw a tiered herb garden and thought that would be the answer to our problem.
So one weekend my husband bought landscaping ties, bag after bag of good dirt and before he left for work on Monday, I had my double-tiered garden. Now what would I do with it? I wanted to grow something we could use so I thought, herbs, just like in the magazine. According to what I had read, they did well with morning sun, and most like a shady afternoon.
Off to the nursery I went, knowing absolutely nothing. I came home with every variety of mint they carried, parsley, chives (the only two smart purchases, rosemary, and oregano. No one told me that mint did not care where it grew! And did it ever grow! It filled in the boggy morass left below the garden and even found a home in the middle of the gravel driveway! The parsley and chives struggled but survived, the rosemary just disappeared and the oregano covered the bottom tier completely. Now what would I do with it? Perhaps if I ignored it, it would just go away.
That same spring, as a Mother's Day gift, my husband turned the bog into a tiny pond with two charming frogs squirting water into the air. I loved it!
I bought books and began to learn about 'bog' plants so I edged the pond with Siberian and Louisiana 'flag' iris and they thrived. The combination of blues, purples, white and yellow was stunning and I began getting a bit of dirt under my nails.
The more I read, the more I wanted to plant so I asked my husband to design and make a large garden for perennials, a word that I had never heard. By now I was subscribing to about twenty gardening magazines and receiving catalogs almost daily. Everything looked so pretty and I was determined to try it all! But I had not heard the saying about perennials: The first year they sleep, the second they creep, the third year they leap and the fourth you divide! I expected the tiny plants to become overnight like the photos in the catalogs! And weeds! I did not know a weed from a flower so I would ask friends who had successful gardens to come over and show me the weeds.
Several things I learned have served me well these past years. First, a dear friend said, "Diane, if you have too much of it, it's a weed!" She was right, even the prettiest flower could become a weed if it allows nothing else to grow. Another friend told me that a weed's roots would stink. She was right; there is a distinctive pungent odor to its roots, while there is none with a perennial. And the most important thing I learned is that one gardener's weeds is another gardener's wildflowers.
I joined the garden club in search of more information since I now had a huge octagonal garden divided in half by one walkway and the bottom half divided by another, leaving me with three large beds. However, I had not learned about soil or drainage, and as I lost plant after plant, I realized that I was doing something very wrong. Not finding the answers to my questions at our local garden club whose members put far more emphasis on arranging than horticulture, I decided that I would have to learn on my own. I joined the CompuServe gardening forum on our computer and I found a friend. A friend who knew everything! He is a horticulturist and a botanist and is director of a large and very successful botanical garden.
Whenever I had a question, he could help, as he had gardened in this part of the country in his earlier years. He had assisted at Longwood Gardens and he had owned a home in Alexandria. He knew all about our clay (it certainly cannot be called soil), and through him I learned what plants like it wet, dry, etc. Eventually my garden began to take shape, although I wish that I had known then what I know now since it would have certainly have saved us a lot of money!
I wanted an English Garden, which any experienced gardener knows is completely impractical in the heat of our extended summers, and the years of drought that began not long after I began my adventure. The lessons I have learned have been expensive but gardening brought me an entire new group of friends. I made new friends who shared their wisdom and plants with me, and friends who have benefited from my continuous reading, studying and planting.
I can look out my window in the early spring when the daffodils bloom and think of my lovely Frances, and the extensive grounds around her old home where I collected so many of these bulbs, and someday I will be able to look at the magnolia growing in my front yard and be reminded of Frances and 'Mill Quarter'. Spring also brings thoughts of Elizabeth and 'Elmington' when the white periwinkle blooms, and year round I am reminded of her garden by the petit-point ivy. Rae too has her place in my garden with the ivy that covers the hard baked clay where nothing else will grow behind the garage. Sure, I have to keep it cut back, but now I have it trained to grow over an arbor, which leads to the path from the patio to the gardening shed. Memories of Edith and Peggy are in the lily-of-the-valley that is slowing covering the island in the center of the driveway, and each summer I know that I can depend on Peggy for brilliantly colored zinnias to fill in the holes in the Arbor Garden.
Although my husband professes not to enjoy helping me with our now numerous beds and borders, arbors and berry vines, he will spend hours taking care of his rose bushes. He beams with pride when anyone compliments our garden. When I mentioned taking the Master Gardener course, he asked why I would want to do that since I could teach it, after all, look what I had done here! I am flattered but eventually I hope to take the course just to say I have done it, and to learn more about the soil, trees, and composting, although my knowledge of perennials is becoming extensive.
One of the most delightful pleasures of my garden comes from sharing with others, which I am able to do now after eleven years of planting. I also share the most important thing that I have learned about perennials; 'First year they sleep, the second year they creep, the third year they leap, and the fourth year you divide'!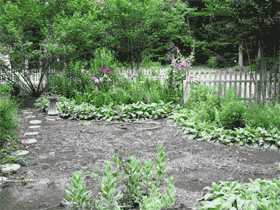 From three plants, I had lambs ear borders around the island, the woodland garden; the St. Francis Garden (named because of the statue that we bought at The Pottery), and the half circle garden that adjoins the latter. I still had plenty of plants to share, but fall before last decided it was too labor intensive and traded the more formal lambs' ear for a rampant, variegated leaf, yellow blooming ground Lamium cover that happily smothers weeds and needs little care.
One of the most important things I have learned is to look a gift horse in the mouth! Some plants are not what they may seem in another's garden or a catalog, for instance, Cleome and Physotegia! I definitely have become more careful before I accept a seedling or seed since that means the donor has an overabundance, and most certainly, the same will occur in my garden! Even now, I have decided I will pull Boltonia and Artemisia Limelight, out of my beds for the rest of my life – and I bought these plants! I would also love to share the variegated violet that has become as big a weed as the local wild one, and Monarda! A butterfly magnet, however weeds in the perennial garden where it knows no bounds – I will be pulling these out by the wheelbarrow load this summer! No one told me it was related to, what else, mint!
Would you believe there is still a tiny bit of mint around the pond?