Home | Fiction | Nonfiction | Novels | | Innisfree Poetry | Enskyment Journal |

International

| FACEBOOK | Poetry Scams | Stars & Squadrons | Newsletter

Literature Discussion - Lit-Talk.com

'Let Us Avoid Escalating Violence'

Uganda's peace advocate speaks

Interview: Archbishop John Baptist Odama (Uganda)

By John Oryem

Click here if you'd like to exchange critiques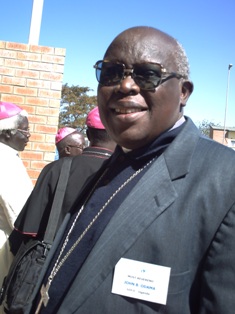 Exclusive
'Let us avoid escalating violence'
Archbishop John Baptist Odama, Uganda's peace advocate speaks
At the edge of the 16th AMECEA Plenary in Lusaka, Zambia, Fr. John Oryem interviewed Uganda's peace maker and leader of the Acholi Religious Leaders involved in convincing the LRA and Ugandan government to reach peaceful settlement to the 20-year conflict in Northern Uganda. At Mulugushi International Convention Centre, Archbishop John Baptist Odama of Gulu Archdiocese shared his views on the peace process in the region on 3rd July 2008. He shares his poetry too with our esteemed readers.
Can you introduce yourself to our readers at home and Diaspora?
I'm Archbishop John Baptist Odama from Gulu, northern Uganda. I became a Bishop in 1996 when I was appointed by Pope John Paul II as the first Bishop of Nebi diocese in west Nile; after two years and halve, His Holiness Pope John Paul II decided to appoint me as the first Archbishop of Gulu, therefore as the metropolitan Archbishop with three suffragan dioceses; Nebi, Arua and Lira together with my See, Gulu. So, I have been an Archbishop for ten years. I live in a very taxing situation.
Your Grace one of the most difficult experiences is the question of the long years of the war which is still going on in your region, as an individual you must have a hard time living such a life. Seeing IDPs in your parishes, offices and doorsteps daily, how do you feel?
Certainly it is disheartening, it is very painful to see people for 22 years in a situation of consistent violence and the effect of this war with over 1 million IDPs,taking my area of Acholi alone. If we take the areas of Lango, Teso and Madi we have a population of more than 2 million people who have been living in state of displacement all these years. They are reduced to dependency, living on handouts either by the WFP or by other organizations that give humanitarian aid. More so, they are in a situation where they cannot move out of the area freely at any time they wish to do so. We have problem of education, health and malnourishment. There is dire poverty in the area. Coupled with these, the people are in the state of desperation. Some people have gone as far as committing suicide that includes the old, young and all groups. Surely without trust in God, faith in God, I would have not endured up to now. My feeling is, I have to work there as a pastor of Christ. He is asking me to act; God wants to use me with others, am not alone. I'm with my priests, Religious and the Laity plus the Inter-faith group like the Anglicans, Orthodox and the Muslim community. This is what is giving me courage. And of course the prayers of all the people in the world, even in Sudan the people have been praying for us. We have been asking people all over Africa, Europe and America to pray for us. These prayers have been holding us strong.
So, was that trust in God that led you to begin organizing for peace process in northern Uganda?
Certainly, it is my conviction and belief that, peace project is God's project. He only employs us as workers in the field; therefore we have to be attentive to listen through the word of God and Scripture and the Social teaching of the Church. It is the re-echoing the voice of God. The right way of approach in handling violence especially armed conflict is through dialogue, through talking, through establishing communication between the fighting parties to listen to one another, to find out why are you fighting? Why are you killing each other? Through dialogue we shall know truth, and through this truth, we shall know what to do. And this is what we have been encouraging.
Your Grace, one of the things that strike people in the region is your courage and resilience to lead the Acholi Religious Leaders into peace process. Before we go into that, what have really failed to unite the Acholi in IDP camps, those in the opposition and Diaspora so that they come to peace table?
I think the major thing is coordination. We had a weak coordination. These different areas could easily be united. Coordination here I mean linkages of who should coordinate all these groups. It is the matter of leadership. Who could volunteer to do this! At the moment we the Acholi Religious Leaders Peace Initiative Group together with cultural leaders, we are trying to see what can be done. At the moment there is no any other group that can bring us together so that we speak with one voice for peace.
There was a moment when the whole world was focussed, (23rd April 2008) everyone seeing you and your group, waiting for Joseph Kony, leader of the LRA almost signing peace deal in Nabanga, western Equatoria, Sudan. All of a sudden things went dark. What was your feeling that day?
It was very, very, very painful experience that something which was so clear, which we thought on that day it will happen, Kony was going to sign peace. Suddenly things changed. It was very devastating experience not only for me alone but for the population at home especially those who have been living as IDPs in the camps. Even all peace loving people all over the world, they were terribly disappointed. But on my side, after all these disappointments, I asked myself, what then can we do. I said no, there still a way out we can try to see what happened. There was, I think breakage of communication. You had different voices going in to Kony and also his own stand on issues of peace agreement which were not clearly explained in details for him. When he discovered, it drew us back to that situation. We then started to encourage the chief mediator, H.E Dr. Riak Machar, the Vice President of the government of South Sudan to continue his work of mediator-ship and see that something is done to reinstate and pick up again not to loose trend. I think he did very well. Though the peace process is limping somewhere, it is gathering momentum to come out again. Beside that disappointment, we should have hope still.
Whom do you think at the moment among the political leaders can hear you as a religious leader?
I must say that most of the political leaders pay attention. They pay attention to me and to my group of Acholi Religious leaders' peace initiative. They also pay attention to cultural leaders. We have been working together even to unite our voice. In some issues were they feel their wishes are opposed, they will say, 'no, no we don't agree with you on this'; but only on temporal moment, after which they will come to us. We are not for power, positions or praises, ours is the interest of the common good; we want the heavy load and burdens of the suffering group to be lifted.
While the people of northern Uganda wait for the comprehensive peace agreement, your Grace Archbishop John Baptist Odama what is your message to the people of South Sudan, DR Congo and Central African Republic as a peace maker in the region?
One message is, let us have hope. Let us work together. Let us avoid escalating violence by not going again to war. We know the effect of war as I said in my poem, the children of war are death, destruction… all negative things are there. These are the things we must avoid now. Let us try to work together, speak truths to one another, talk with aim of bringing understanding, addressing issues where obstacles lie, and find solutions. We reason over this and promote the aspect of love, forgiveness and reconciliation among ourselves; so that we build again our countries like southern Sudan, Congo, Uganda and Kenya. If we are united and peaceful with ourselves, then our political leaders can guide us, not to let us fight each other. And even rebel groups should speak honestly, what do they want and let it be understood and brought together so that we move in the right direction for prosperity in our region.
Bellow are Archbishop John Baptist Odama's lines on war:
WAR IS NEVER GOOD NEWS
War is never, never Good News for humanity.
Its children are:
Death,
Destruction, it destroys what it claims to defend, save,
Loss of property, misery,
Madness\nonsense
Dehumanization,
Desecration of human life
Fear,
Falsehood, counter-accusations
Broken relationship,
Self-defeat of humanity,
Hatred, anger, revenge
Mistrust,
Trauma, etc.
Those who intend
And plan to go to war
Or have started must know that the cry
Of the innocent like
Babies, children
Their mothers,
The elderly, indeed
The majority, will
Reach God.
Those architects and
Contractors of war
Will have to be accountable,
First witnesses
Against themselves
In front of God and
Humanity.
Let reason, trust, hope, courage and love
Dialogue triumph to
Save the sacred and
Precious human lives
In whichever country.
+ John Baptist Odama
Archbishop of Gulu, Uganda