Home | Fiction | Nonfiction | Novels | | Innisfree Poetry | Enskyment Journal |

International| Facebook | Poetry Scams | Stars & Squadrons | Newsletter
A Blind Walk, Drumming "Shadows of Death
Review of William Khalipwina Mpina's Shadows of Death
By Keith Aiche Mwitiwa
I just began walking
And walk I did with long strides

Thus, paradoxically opens the collection of verse by a single Malawian hand. It is like opening a window of optimism after painting bad pictures on neighbours and otherwise well-wishers as agents of own poor performance. Just like bumping into an insight of opening, a door that you thought could not open and had kept staring at it for 52 days. This is the voice of a persona lost but now able to see what he was unable to see to bail him out of desperation. This is a message conveyed to people about the way to go especially in countries that are swimming in poverty like Malawi. The message on the blurb is tastefully lucid. 'The selection of poems in this book is a celebration of Africa's culture as perceived by the author. They portray life as the natives and the others live it and continue to live, creatively painting a picture of what does exist in the Dark Continent. In any case, this is what captures a reader's attention when he or she gets a copy of a book Shadows of Death written by a new writer, William Khalipwina Mpina.

In particular, Shadows of Death and other poems assemble verses that are unequivocal about Malawi. Others seem to be more personal- but they are not suggestively political. They are more often than not non-metered, non-rhymed, and image centred just like most of the poems in African anthologies. In most of the poems, the personal voice of the poet is present and blatant. There is an exceptionally undeviating and touching quality in the physical detail. The voice speaks with a kind of vigour relative with time.

Khalipwina has always wanted to find a voice in order to vomit the ills and the best of the society. In 2009, he confided in me "I am willing to search for truth because I love to tell the truth." Such is the power of his conviction that, after meeting him in Blantyre, Malawi's commercial city, and reading a few of his poems one of which found a space in Scottish pen newsletter, walking in search of literary motivation and liberation formed part of his life.

Yet for Khalipwina, acting not just walking seems to be his number one task. An economist, teacher, and writer, he defines his successes as a series of beginning to walk though 'without any incentive to push you or any bait to make you grope for it.' He describes his literary journey as a tough one especially when his uncle, Edison Mpina died. "You see he was the man who taught me how to put a poem on a page. We had several book projects that we planned once he got satisfied that I am in the poetry business to stay. When he left us, I just began walking." In poetry, Khalipwina has walked behind the backs of prominent poets such as Alfred Msadala, Sambalikagwa Mvona and Edison Mpina's long time friend, Kingstone Lapukeni through writers groups such as Malawi Writers Union and Malawi PEN until today.

Writing at home, he has published in local tabloids such as Malawi News, The Sunday Times and The Weekend Nation. He has also performed many of his poems in the Great Hall at Chancellor College. All one sees is that the book draws pictures of different personae that have gone through difficult situations as they were growing up. This relates to the life of the author. "My father left when I was in standard five. Their marriage had broken. I witnessed the fight and demolition of our house part of it. I saw my father off at Zimbabwe bus stage in Thyolo when I was in standard four. I lived with a single parent there after, but in a hard way. I remember one of our teachers, Mr.Minyaliwa, at Nansato full primary school used to employ villagers to mould bricks for business during the holidays. That was my job so I could have a school uniform."

Just like a dream, Khalipwina saw his father again in the headmasters office when he was about to sit for primary school leaving certificate. This time he had changed his surname. He had enrolled as William Mwale, so the headmaster told the father about the change of name. In fact, he had to find out who Mwale was. Ironically, Khalipwina saw this as a gift, but his father saw it otherwise. The father wanted to reunite with his mother but it was not possible. When he left, Khalipwina's world crumbled. Then he planned to set out on a journey; away from poverty, away from humiliation. Khalipwina creatively reminisces his father's efforts to come back in these lines:


Welcome back home
Your visit is a gift

In connection with his father's departure, Khalipwina was most often ill-treated and considered by many as one of the boys who could not make it in life. So he fled to the city of Blantyre in 1997 after he obtained his school certificate in 1996 and stayed with a family who was closely related to his mother but not necessarily to him."I thought they would welcome me. They did reluctantly." A one-month stay in this house made him not to look back, but to begin his journey in search of liberation.

Part of Khalipwina's stay with this family in the city of Blantyre is captured in the following lines


I am a slave
Till when shall I
Pine away in vain
Like an oxen

Khalipwina never fought for his survival in obtaining support and power alone. "I had to put food on my table. I began my working life in Blantyre when I was 19. Many people thought I was too young to work. But my immediate bosses knew who I was: simple in appearance, but serious in work. Eight years later I lost the job and immediately headed for the village."

During this period, Khalipwina climbed a mountain of hope and captured this scene through the following lines:


Peering through the rolling

Of whirlwinds

The face of light

Comes through the dying flames

Bitter moments come in life. Two years later, Khalipwina's mother died, and then his son Paul followed her grandmother three years later. He sat behind his grandfather's house, and wept:


A bus ride detaches us now

Splits me from you blissfully gloomy


This did not make him stop. He blindly rose up and walked back to Blantyre. He could not look for another job this time because he wanted to obtain a degree first. He survived on part time teaching in Lunzu. "You cannot feed your family well, yet you do not want to work." These were tornadoes coming from brothers and in-laws. He often looked away, and walked on the right path gradually to Chancellor College for career change, seemingly singing:


Sometimes our dreams

Take us too far

Where our legs are stiff to walk

Where our eyes are blind to see


This appraisal of Shadows of Death and other poems may be slanted in view of the fact that I have used the pieces found in the book to justify my sentiment. I felt so because of my little knowledge about Khalipwina's life. The book may not necessarily be speaking more about the expedition of the author than it does to the continent. It does also highlight pertinent issues such as poverty, death, abuse of power, HIV and Aids, love, deceit, corruption, liberation and disloyalty.

In conclusion, I must emphasize that the collection features some poems that are deceptively uncomplicated and others that are impressively crypt. For an emerging poet, Khalipwina gets the kudos. Nevertheless, a few poems were hastily included in the collection. I wish to point out here that poems intended for any audience must be well revised, because poems must be vehicles that should carry vivid messages. This I encourage professional editorship. Since poets are licensed differently, I live it to future readers to appreciate this new style. Published on line by lulu.com in USA, this collection of original verse is to perfectly pierce the heart of beloved literature scholars and non-scholars as they escort Khalipwina in the blind walk, drumming shadows of death. Keith Aiche Mwitiwa is a graduate of the University of Malawi who aspires to write biographies of key Malawian writers. He works in the Ministry of Health.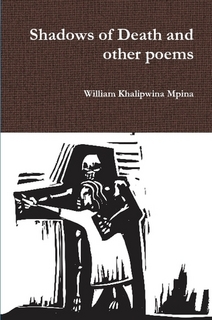 Shadows of Death, by William Khalipwina Mpina
Print: $17.97 (10% Discount available)
WILLIAM KHALIPWINA MPINA - The poems in Shadows of Death and other poems epitomize life in the developing countries like Malawi. The selection of poems in this book represents a celebration of Africa's culture as perceived by the author. They portray life as the natives and others live it and continue to live, creatively painting a picture of what does exist in the 'Dark' Continent. They commemorate the distinctiveness of Africans as regards to freedom and economic development. They are a torch that exposes how the ailing economies in many nations may not recover from their state of unconsciousness any time soon. Major themes include poverty, death, abuse of power, HIV and Aids, love, lies, corruption, liberty and disloyalty. The book is a demonstration of the poetic road the author has travelled over the years while visualizing shadows of death in Africa.