Home | Fiction | Nonfiction | Novels | | Innisfree Poetry | Enskyment Journal |

International| Facebook | Poetry Scams | Stars & Squadrons | Newsletter

July 29 1966 on my Mind:
Did General Aguyi-Ironsi Deserve to Die? (Part 1)

By Henry Chukwuemeka Onyema (Nigeria)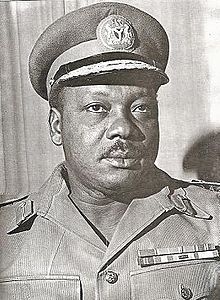 July 29 1966 on my Mind: Did General Aguyi-ironsi Deserve to Die? (Part 1)
By Henry Chukwuemeka Onyema
INTRODUCTON
On the fiftieth remembrance of Nigeria's second coup which ended the life and six-month government of General Aguiyi-Ironsi, Nigeria's first military head of state, I have decided on a historical reflection on the above topic. These are my reasons: first, Nigeria's ugly history of her first ten years as an independent state during which Ironsi ruled and died continues to adversely affect the country more than forty years on and both Nigerians and non-Nigerians need to know the facts and act based on them; secondly, it is necessary to give Ironsi his right place in Nigeria's history; finally both the rulers, citizens and friends of Nigeria can draw useful lessons from the historical record.
A caveat: this work does not pretend to have the last word on this subject.

WHO WAS THE MAN AGUIYI-IRONSI?
Johnson Thomas Umunakwe Aguiyi-Ieonsi was born in 1924 in Umuahia, the capital of present day Abia State, Eastern Nigeria. Hs father, Mazi Ezeugo, was an Igbo from Umuahia. The Ironsi household was typical agrarian Igbo Catholic. As a boy Ironsi lived with his older sister, Anyamma and her husband, Theophilus Johnson, a Sierra Leonean train driver. The young boy was so integrated in the new family that he took the name Johnson and many people concluded that Theophilus Johnson was his father.
Ironsi attended school in Umuahia, Calabar and Kano. In addition to English and Igbo, he learnt to speak Hausa and Yoruba. He enlisted into the then colonial army at the age of 18 and rose to the rank of a company sergeant-major by 1946.

As the British colonial masters sought to hand over control of the emerging Nigerian army to Nigerians following the Second World War, it became necessary to create a Nigerian officer corps. Ironsi was among the earliest set of reasonably educated Nigerian Non-Commissioned Officers to be sent abroad to be trained as officers and commissioned. His set which included Samuel Adesujo Ademulegun was commissioned in1949. They were the second set. Louis Victor Ugboma was the first Nigerian to be commissioned as an officer in 1948.

Ironsi's career for the next decade or so spanned a series of postings, trainings and promotions. Most of his military education was at British institutions, namely Camberley Staff College and the Imperial Defence College, all with centuries-old tradition of ingraining subordination to civilian authority in its graduates.

Ironsi came to the limelight in 1960 when he was appointed the commander of the Fifth Battalion of the Nigerian army which was sent to the troubled republic of Congo (former Zaire) as part of the United Nations Peace Keeping Force. In the words of Frederick Forsyth, Ironsi proved that 'he was more than a staff officer. When the Austrian medical team and the relieving Nigerian soldiers were besieged by the rebels, he flew in alone, in a light plane and personally negotiated their release. The Austrian government decorated him with the Ritter Kreuz First Class.' In 1964, Ironsi became the commander of the entire UN Force in Congo, the first African to do so. He was elevated to the rank of Major-General, Nigeria's first. However, he reverted to Brigadier when he returned to Nigeria and took over the First Brigade. In 1965, he became the General Officer Commanding (GOC) the Nigerian army, the first Nigerian to attain that post. He succeeded the outgoing British Major-General Welby Everard and was restored to Major-General.

Ironsi's ascension to GOC was an acrimonious affair that reflected the dirty politics within Nigeria's elite class at that time. Although it was the responsibility of the Prime Minister and the Defence Minister to appoint the GOC, General Everard's recommendations were significant because this was the first time full command was passing to Nigerians and he had insight into his three most likely successors: Brigadiers Ironsi, Ogundipe and Ademulegun. He discounted the fourth, Brigadier Zakaria Maimalari, on account of youth and inexperience.

Everard recommended Ogundipe but the ruling elite had their ideas. The ruling Northern People's Congress that produced both the Prime Minister, Tafawa Balewa, and the powerful premier of the Northern Region, Sardauna Ahmadu Bello, favoured Brigadier Samuel Ademulegun who was the latter's friend and seemed more amendable to their political interests. It was a keen contest. Accounts from that period indicate that Ironsi was not interested in the polarization of the army into 'Ironsi' and 'Ademulegun' camps and kept away from the politicking. That he finally got the job was probably due to his seniority, his outstanding record in the UN and Britain where he was Nigeria's military adviser, and the trenchant support of Ironsi's candidacy by the mainly Igbo National Convention of Nigerian Citizens (NCNC) which was NPC's partner.

Ironsi was highly respected in Nigerian military circles. Retired Major-General Ike Nwachukwu's description sums up the esteem he enjoyed. When he saw Ironsi for the first time as a Second Lieutenant, he depicted the occasion thus: 'when the GOC landed, it was like seeing a God. And he was indeed the God of us all soldiers.' He was a man of great courage and honesty and exuded a solid military bearing. However, the high regard in which he was held within and outside his primary constituency was not universal. One only has to read Major Chukwuma Nzeogwu's 1967 interview with 'Africa and the World' journalist, Dennis Ejindu, and books by Adewale Ademoyega and Ben Gbulie, namely 'Why We Struck' and 'Nigeria's Five Majors' to see what they thought of him. Maybe there was a basis for their sentiment, apart from obvious ill-will at Ironsi's role in scuttling their coup. First, even Everard in his recommendations doubted Ironsi's ability to be the GOC because most of his record-breaking appointments were outside Nigeria and thus he was out of touch with the army. Secondly, Ironsi seemed to have an unhealthy appetite for the bottle. Former president Olusegun Obasanjo who served under him when Ironsi commanded the Fifth Battalion in Congo gave this unflattering account: 'The commanding officer, Lieutenant-Colonel Aguiyi-Ironsi, was particularly noted for his whisky and his unguarded conversation afterwards. On one occasion he said to me, ''You are a good officer but I don't like you because you don't drink. You will always be too sober.'' He said similar words to Chukwuma (Nzeogwu who also served under him) on one occasion and Chukwuma did not like it.' Also, Chukwuemeka Odumegwu-Ojukwu who was military governor under Ironsi doubted his leadership capabilities. In his words: 'Ironsi…had courage and he had honesty, which were two qualities that qualified him better than some who followed him. But Emeka (Ojukwu) could in no way respect his brain-power. For Ironsi was a soldier, born and bred. His entire life had been spent in the army and he had no idea of the complexities of government. Like some before him and most after him, he thought you could run a country like a squad of troops on a parade ground. You just shouted 'Left turn' or 'Right wheel', and the whole country went stamp, stamp, stamp. He never lived to learn there was a lot more to it than that.'

In that period, when many Nigerian military officers became more political than politicians, Ironsi was on record for being apolitical and critical of his men's taste for matters outside soldiering. As GOC he once complained, 'I asked for soldiers and am being given politicians dressed in uniform.'
Ironsi's wife, Victoria, was not known to have played any significant role as First Lady unlike the wives of some of his successors. But in Wole Soyinka's 'The Man Died', she was criticized for going to the hair dresser's in a military convoy. Ironsi had eight children, including a son, Thomas. Thomas who became Nigeria's Defence Minister during Olusegun Obasanjo's civilian presidency was with his father on the day he died.

Ironsi was famous for his swagger-stick which had a stuffed crocodile head affixed to it. This mascot of his, popularly known as 'Charlie', was probably a totem or recognition of his name Aguiyi which means crocodile in Igbo.
Henry Chukwuemeka Onyema is a writer, historian and chief creative officer of 2-4 henritz writing agency, Lagos. Email:henrykd2009@yahoo.com