Home | Fiction | Nonfiction | Novels | | Innisfree Poetry | Enskyment Journal |

International| Facebook | Poetry Scams | Stars & Squadrons | Newsletter

July 29 1966 on my Mind:
Did General Aguyi-Ironsi Deserve to Die?
Part Two: Ironsiís Role in The January 15 1966 Coup

By Henry Chukwuemeka Onyema (Nigeria)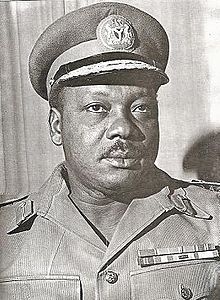 July 29 1966 on my Mind: Did General Aguyi-ironsi Deserve to Die?
Part Two: Ironsiís Role in The January 15 1966 Coup
By Henry Chukwuemeka Onyema
The evidence that shows that General Ironsi and the plotters of the supposedly Igbo coup of January 15 1966 were diametrically opposed to each other is highly significant. Major Nzeogwu, in an interview with the 'Daily Telegraph' newspaper, 22 January 1966 edition, declared: 'We got some but not all. General Ironsi was to have been shot. But we were not ruthless enough. As a result he and the other compromisers were able to supplant us.'

But in his unpublished account of the coup, its leader in Lagos, Major Emmanuel Ifeajuna, stated that he and his colleagues planned to 'present our senior officers with a fait accompli,' and hand over power to 'my general.' Since Ironsi was Nigeria's only Major-General at the time of the coup was Ifeajuna referring to him? If yes, why? The implication is that Ironsi was somehow connected to the plot. But this perspective clearly flies in the face of Nzeogwu's assertion and accounts by other plotters such as Ademoyega and Ben Gbulie that Ironsi was marked down for arrest, if not elimination.

Odia Ofeimun, one of Nigeria's leading writers and ex-private secretary to Chief Obafemi Awolowo, presented interesting insights into this issue with his long essay 'The Forgotten Documents of The Nigerian Civil War.' Referencing from Ifeajuna's manuscript, he pointed out the following:

When questioned by his friend and contemporary at the University College, Ibadan, the poet John-Pepple Clark on whether Ironsi knew about the coup, Ifeajuna said, 'Well, not really. I was just a Brigade Major and you don't always get that close to a General. But I remember on some of those briefings on the situation in the West, when I said it couldn't go on forever like that, he growled that we junior officers should not go and start anything foolish.' The bloodshed in the Western Region was one of the reasons why the plotters struck.

Ifeajuna clearly hoped the General would come on board, though he was from all indications uninvolved in the plot. Clearly Ironsi's position, seniority and command post would somehow legitimize the Majors' undertaking. The stated plans for the General in Ifeajuna's work sharply contrasted with the attitude of other leaders of the coup such as Nzeogwu and Ademoyega and probably led to the coup's failure.

Ifeajuna wrote: 'We were to present our General with a fait accompli. We were to apologize to him for our actions and request him to join us and take over the plans. If he was not prepared to join us, we would request that he should leave us alone to complete it…If our General agreed to come with us then he could rest in charge of the army or he could be head of state (while Awolowo would be Prime Minister or Executive President, depending on the reaction of our General).'

These intentions flew in the face of what actually happened on that fateful day. Available evidence ranging from Ademoyega and Gbulie's books to the report of the Nigerian Police Special Branch 's investigation of the coup persistently show Ironsi's stand against the plotters that eventually overwhelmed them in Southern Nigeria.

In summary: after the party hosted by Brigadier Zakariya Maimalari, Ifeajuna's commander and victim of the coup, Ironsi went on to a boat party. When he got home he got a phone call from either Colonel Yakubu Pam, another casualty of the coup, or his wife, Elizabeth Pam. A second call came from the residence of the abducted Prime Minister, Tafawa Balewa. Before Ironsi's return, Major Donatus Okafor, commander of the Federal Guards Unit whose brief was to arrest Ironsi, had shown up with his men on the pretext of taking over guard duties at his official residence, Flagstaff House. But the suspicious guard commander resisted and Okafor had no choice but to leave, since the GOC was not in.

Ironsi reinforced his guards, ordered them not to let anyone in and left for the Federal Guards Barracks. Once there, he commanded the Regimental Sergeant-Major of the unit to take orders from no other officer but him. Interestingly, Damola Awoyokun's account reveals that the Federal Guards had been roused by Lieutenant Paul Tarfa, who was one of the unit's few officers not involved in the coup before Ironsi's arrival. This single action drove a big nail into the plotters' coffin because Okafor's unit was pivotal to their plans.

With his full control as the GOC of the Nigerian Army, Ironsi mobilized support in all the units in Lagos. There are accounts that he browbeat some of the plotters' men at a roadblock. Two accounts of this episode exist. Frederick Forsyth and Max Silloun report that the roadblock which was at Carter Bridge was manned by Captain Ogbo Oji, an officer from Ironsi's hometown, Umuahia. When the soldiers blocked his car Ironsi intimidated them with his commanding presence and roar of 'GET OUT OF MY WAY!' Obasanjo wrote that Oji had a change of heart after exchanging words with the General in their local dialect. Unfortunately both men are no longer alive to tell the world what actually happened.

Ironsi's counter-coup mobilization was significantly supported by military officers from all ethnic groups. His brash, pistol-wielding, straight-to-the-point style won him the loyalty of officers like Gowon, Ojukwu, Alexander Madiebo, David Ejoor, Hilary Njoku, Theophilus Yakubu Danjuma, Murtala Muhammed, Adekunle Fajuyi; even the turncoat, Major John Obienu who had initially thrown his lot with the plotters. Strategically, it made sense to back the GOC whose one order could send the entire army on the warpath than a group of Majors whose commands were at best dicey.

Throughout the coup fiasco and even after he was on top of the situation, Ironsi used the Police Headquarters on Moloney Street, Obalende, Lagos as his office and command post. He was not too trustful of his officers.

In the North, Major Nzeogwu had almost absolute control. The only snag was Kano where Lieutenant-Colonel Ojukwu, commander of the Fifth Battalion, held out. The scope of this work does not include the nature of at times almost bloody exchanges between Nzeogwu and Ojukwu over their struggle for the Northern Region. I recommend a study of the following for those interested in the subject:
Chapter 6 of 'Nzeogwu' by Olusegun Obasanjo

Chapter 2 of 'The Nigerian Revolution and the Biafran Civil War' by Alexander Madiebo

Pages 154-157 of 'Because I am involved' by Emeka Odumegwu-Ojukwu.

Chapter 7 of 'Emeka' by Frederick Forsyth.

Pages 178-185 of 'Ojukwu' edited by Ray Ekpu

Damola Awokun's articles in 'The News' magazine 4 and 11 March 2013 editions.

Ojukwu eventually pledged loyalty to Ironsi. Nzeogwu realized that his plan to launch an offensive on Southern Nigeria to finish the coup would most likely fail and wisely agreed to go to Lagos after Ironsi sent his envoy and Nzeogwu's close friend and mentor, Lieutenant-Colonel Conrad Nwawo, to convince him of his sincerity; a sincerity the plotters regretted, going by the accounts of the survivors among them. Before giving up on the military option following counsel from pro-Ironsi officers like Major Alexander Madiebo, Nzeogwu set the following conditions or terms, namely:
A guarantee of safety for himself; his officers and all men who took part in the coup.

Guarantee that they would not face legal prosecution then, or at any later time.

Compensation to be paid to the families of all military personnel killed in the coup.

Release of all coup participants in the South.

Non-return to office of the overthrown government.
As it will be seen latter, these terms would come to haunt Ironsi in power. But the question is: did he truly accept these conditions or were they merely tactical moves to contain the volatile Major and avoid a civil war? The three days, January 15-17, were intensely tense as Ironsi and Nzeogwu had a face-off. Major Olusegun Obasanjo, Nzeogwu's friend, acted as a mediator. On a visit to the General on January 16, Ironsi who had established contact with Nzeogwu before Obasanjo's flight landed in Lagos, told him: 'Nzeogwu talked about safe conduct for him and his colleagues, when I spoke to him. What exactly does he mean? Does he want medals for what they have done?' When Obasanjo interpreted his friend's request as a request for amnesty,

Ironsi said it would be the responsibility of the Supreme Military Council to decide, when inaugurated.

However, Ironsi gave the guarantees Nzeogwu wanted by phone and through Nwawo. But when the Major got to Lagos he was arrested and detained. His remaining colleagues, including Ifeajuna who fled to Ghana, were also arrested and detained.

Certain observations are noteworthy here. Having crushed the coup, why did Ironsi not restore power to the civilian government? Did he capitalize on the situation to scheme for power or coerce the rump of the cabinet into handing over? Was Ironsi's ascension to power the culmination of an Igbo plot to take over the government?
Henry C. Onyema is a writer, historian, teacher and chief creative officer of 2-4 henritz writing agency, Lagos. Email:henrykd2009@yahoo.com

ALL RIGHTS RESERVED.